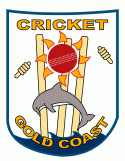 Member Clubs are advised to pass on this information to the relevant Delegates within your clubs.
Delegates Meeting on Monday 30th September 2019, 6.30pm start at Kerrydale Oval Clubhouse.
Member clubs are advised that all team nominations are required by Wednesday 25th …please send to Barry Van Peppen (Co-Ordinator)
seniorcoordinator@cricketgoldcoast.com.au
this will facilitate the draws prompt drafting.
We welcome member clubs constructive feedback and suggestions for improvements.